2007.09.18 08:01:09 (*.94.41.89)
17291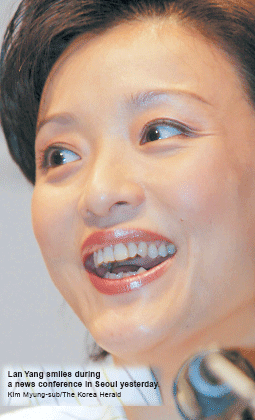 Lan Yang says 'life is not fair to everyone'
Lan Yang, a famous TV show host and probably China's wealthiest self-made woman, yesterday stressed the importance of charitable service to society, saying that "life is not fair to everyone."
Yang is currently on her first visit to Korea, to participate in the first World Women's Forum, a three-day conference devoted to building a global network of influential female figures. The forum kicked off yesterday at the Walkerhill Hotel in Seoul.
Yang has often been compared to Oprah Winfrey, not only for her pioneer work in creating some of the China's most popular programs, which combine news and entertainment, but also because of her active involvement in charity service. She actively serves as goodwill ambassador to several national charity foundations, promoting environmental protection, education, and blood donation.
Yang said that she started to do charity service about 10 years ago, and was inspired by the story of a poor mother whom she was reporting on.
"A mother with a girl living in the most impoverished area in China told me how difficult her life was. She had to support her ill husband and handicapped father-in-law. What stunned me at the end of the interview was that I learned we were born in the same year. But because of the hardship of life, she looked 10 years older than I was," said Yang during a news conference held in Seoul.
"Before then, I thought I deserved everything I had earned because I had worked really hard and competed with talent and professionalism. But at that moment, I learned that life is not fair to everyone. Since then, I started to represent quite a few charity organizations," said she.
Born in 1968 in Beijing to a father who was an English teacher and a mother who was an engineer, Yang graduated from the Beijing Foreign Studies University in 1990.
She entered the broadcasting industry at the age of 21 when she was in her last year at college. She auditioned for - and won - the position as host of the Zheng Da variety show on China Central Television. Within a year, Zheng Da, a prime-time-Saturday celebrity quiz and talk show, was China's top-rated TV program, with an audience of 220 million. Four years later, Yang quit the show to study international and public affairs at the graduate school of Columbia University in New York.
After she married Hong Kong entrepreneur Wu Zheng, she became co-owner with him of a new media company, Sun Television Cybernetworks.
The 38-year-old entrepreneur and show host was appointed January as one of the image ambassadors for the Beijing Olympics, joining Deng Yaping and two other Chinese women to be so honored: Gong Li, the film actress, and Sang Lan, the gymnast who was paralyzed in 1998 while she represented China at the Goodwill Games in the United States.
The TV host mentioned a growing popularity of Korean culture in China and her interest in Korean dramas including "Daejanggeum."
"I love to watch Korean TV dramas, although they are too long. I think they are authentic and true-to-life, and I think that is why Chinese people love Korean drama," she said.
"Especially, young people are crazy about Korean pop culture, including animation, comic books, and pop songs. The Korean wave in China, I think, is basically because the development of culture and the media in Korea is very much admired, and Chinese examine how Koreans have achieved all this, and what we Chinese can do (in the future)," said Yang.
"Besides, I am a big fan of Chang Dong-gun," she added.
By Cho Chung-un